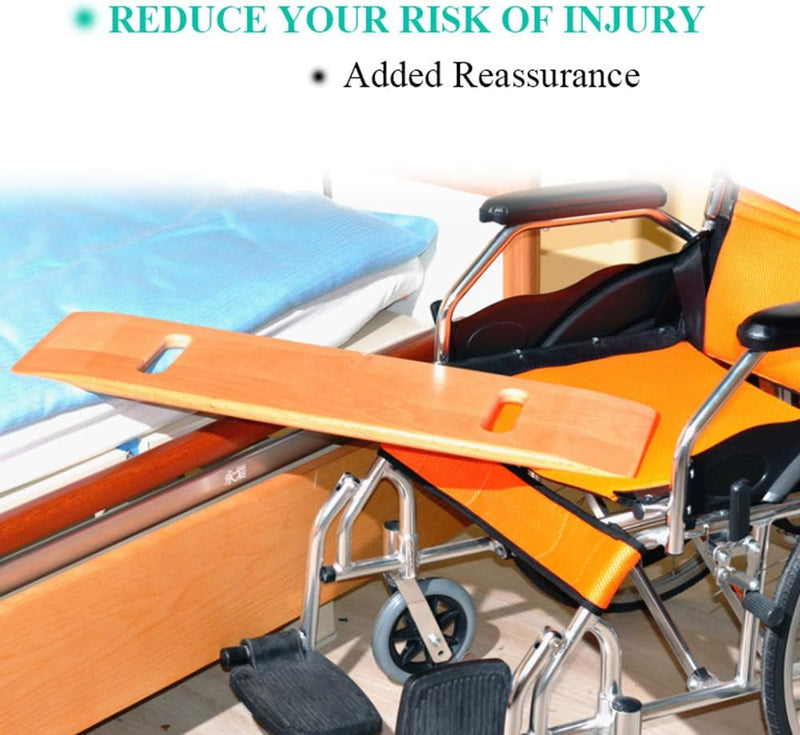 FUNCTION: Transfer board provides safe, convenient, high-quality and humanized location transfer service for patients with mobility disabilities by connecting two locations, so as to realize safe and rapid transfer from bed, wheelchair, stool and other locations. Minimize the stress or injury of users and caregivers.

SIZE: Our transfer board is made of hardwood, 30in long, 8in wide and 0.7in thick. With beautiful and durable appearance, it can provide super load capacity, crushing resistance, fracture resistance and high safety. And its weight is moderate, only 3.7 pounds, easy to use at home and out.

SMOOTH SURFACE: These transfer board are sanded evenly and sealed with a smooth surface coating, reducing friction between patients and transfer boards, allowing patients to slide more easily to their destination. And the smooth surface will not hurt the patient's skin and clothing, giving the patient the safest experience.

HANDLES AND ENDS: At both ends of the transfer board, a handle is designed to facilitate the patient's grasp and support. The opening of the handle is large enough to accommodate hands of various sizes, while maintaining the integrity of the transfer board structure. The conical shape with rounded corners at both ends of the transfer plate can make it easier for patients to slide onto the transfer board and reduce scratches on furniture or interior decoration.

100% SATISFACTION GUARANTEE: Our transfer board is made with durable and safety in mind. To make sure you're happy with your purchase, we offer a 30 Day Customer Satisfaction Warranty so that you can order without worry.