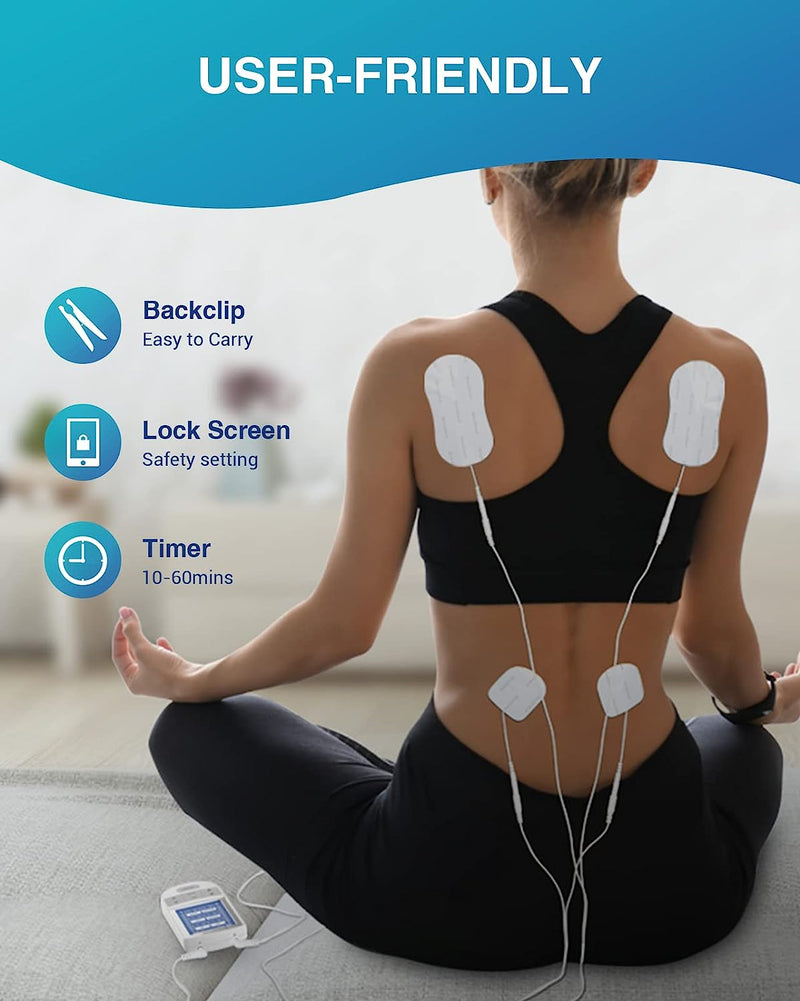 PINPOINT & DRUG-FREE PAIN RELIEF: Comfytemp TENS unit muscle stimulator and back massager simulates a variety of massage methods, which is a great TENS device and muscle relaxer you can use at home for pain management. Professional electrotherapy muscle stimulator pulse massager and accessories for providing pinpoint lasting drug-free muscle pain relief from back pain, period pain, tennis elbow, carpal tunnel relief, arthritis, shoulder pain, knee pain, leg, and foot pain.

PROFESSIONAL TENS MUSCLE RELAXER: Combining square wave and trapezoidal wave in Comfytemp TENS machine for pain management, provides a more comprehensive and effective muscle stimulation that can reduce muscle fatigue and soreness, increase circulation and oxygenation, and improve overall muscle performance. The square wave provides a strong and consistent contraction of the muscles, while the trapezoidal wave provides a more natural and gradual contraction and relaxation.

DUAL CHANNELS TENS UNIT FOR BACK PAIN: The pulse massager for muscles helps relieve muscle soreness from exercise or normal household activities. Comfytemp TENS machine is a muscle stimulator, nerve stimulator, and electric massager, offering A/B dual channel, 12 pre-set modes, and 20 intensities with adjustable time (10-60mins). You can adjust the intensity of the A/B channel separately to meet the different needs of your different parts.

3IN LARGE SCREEN & EASY TO USE: Compared with the common back pain relief products on the market, Comfytemp portable tens unit adopts a high-definition large screen and enlarged icons, which is easy to read and operate. The electrodes muscle stimulator for muscle growth provides a key lock function to provide you with safety protection from strong currents caused by accidental touch. The TENS massager last memory function will remember your preference of mode setting.

PREMIUM TENS UNIT PADS & PORTABLE: The TENS pad is made with PET material and industry-leading adhesive, providing excellent self-stick performance. Equipped with a back clip for portability, and the pressure-sensitive adhesive tape to solve the problem of non-fit arthrosis. Muscle stimulators and accessories with 8pcs TENS unit replacement pads in 2 sizes(L: 2.4"x4" 4 pcs, S: 1.8"x1.8" 4 pcs), offering a pad holder and storage bag to make storage easier.