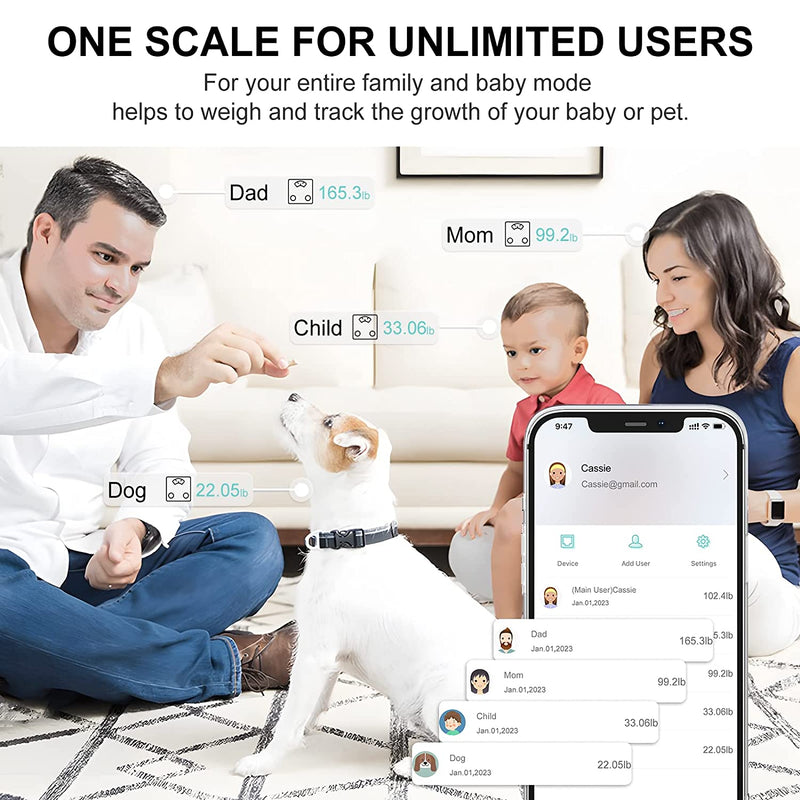 【FITNESS & HEALTH TRACKING】 How to achieve your ideal weight goals? First, you need a BAGAIL BASICS Smart Scale. Our high-precision smart scale puts you on a better health track because it also performs a comprehensive analysis of your body composition and measures BMI, body fat, body water and bone mass to get a more complete picture of your overall health.

【HIGH ACCURACY】 4 high-precision sensors, measure in increments of 0.2 lb, 0.05 kg with maximum load capacity of 180 kg/400lb/28st. Simply step on the scale to turn it on. Automatically shuts off when you step off.

【USER-FRIENDLY APP】 BAGAIL BASICS is paired with the Fitdays app to show you health trends, insights and nutritional tracking of your intake to make sense of your calorie intake.Whole body composition goes beyond just focusing on your weight and helps you understand what goes into that number so you can better reach your weight goals. It can be used in combination with many health apps, allowing you to easily track your progress in one place.

【STABLE AND SOLID PLATFORM】The glass platform of the BAGAIL BASICS 11 x 11 inch Smart Scale is one centimetre above the floor and is comfortable even for people with large feet. our 6-mm tempered glass platform provides exceptional durability and comfort. Rounded corners, anti-slip pads and anti-tip protection not only ensure exceptional sturdiness, but also make the scale more durable and safer. The large platform is comfortable and suitable for everyone.

【FOR THE WHOLE FAMILY & BABE MODE】 FITDAYS APP automatically recognises and registers up to unlimited users. And with baby mode ,you can keep an eye on the youngest members of the family. It's a great option to share with the whole family.