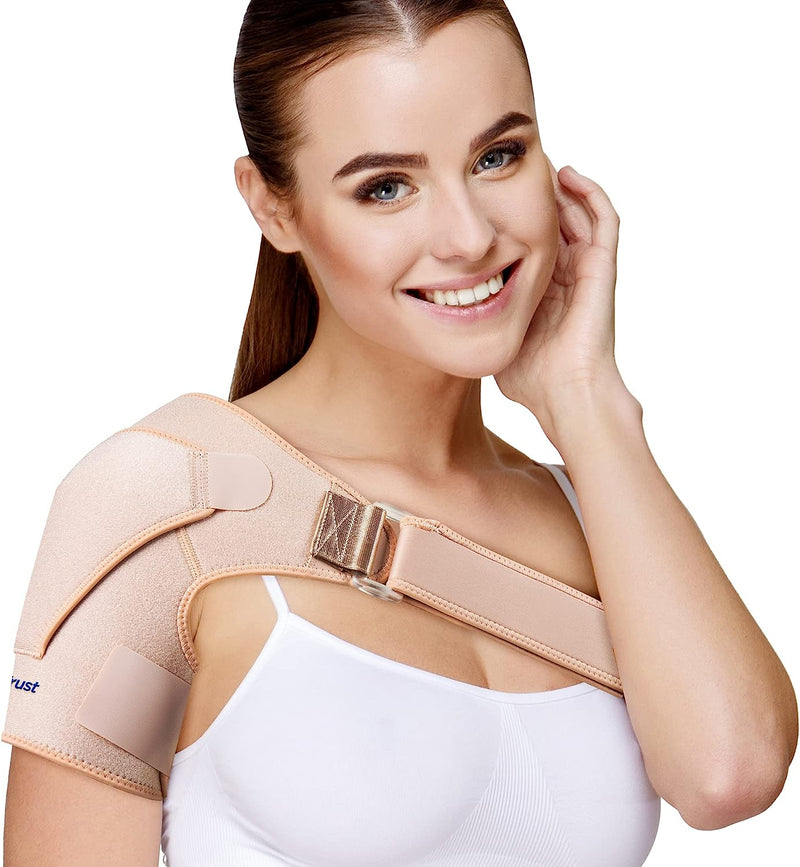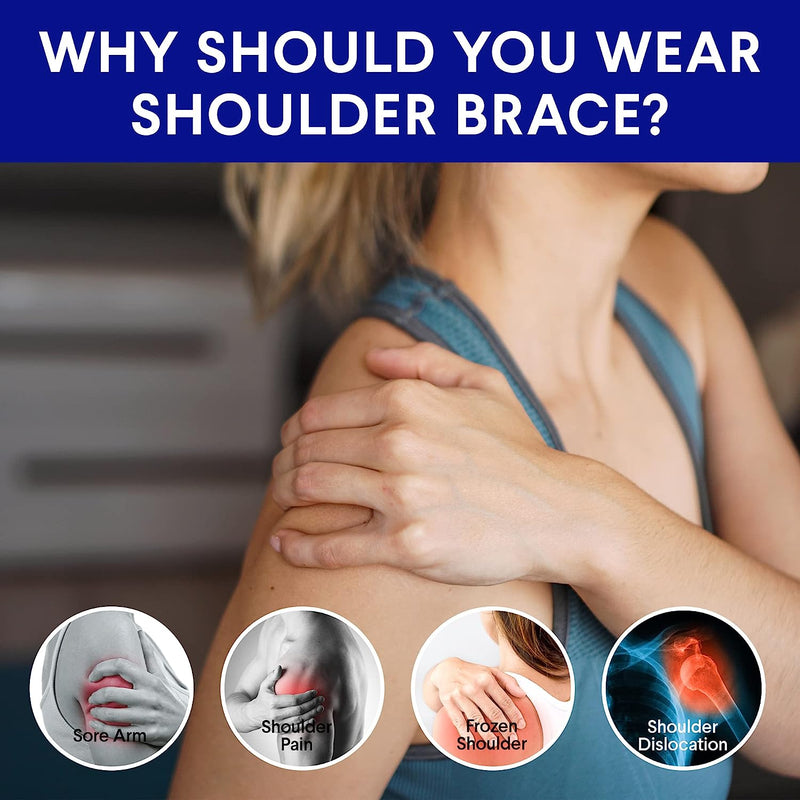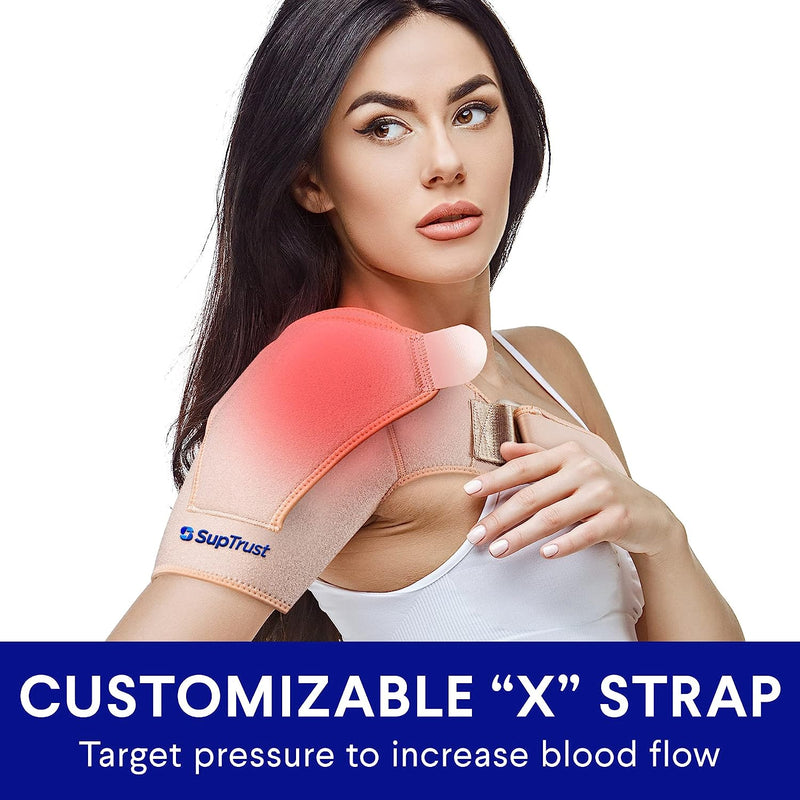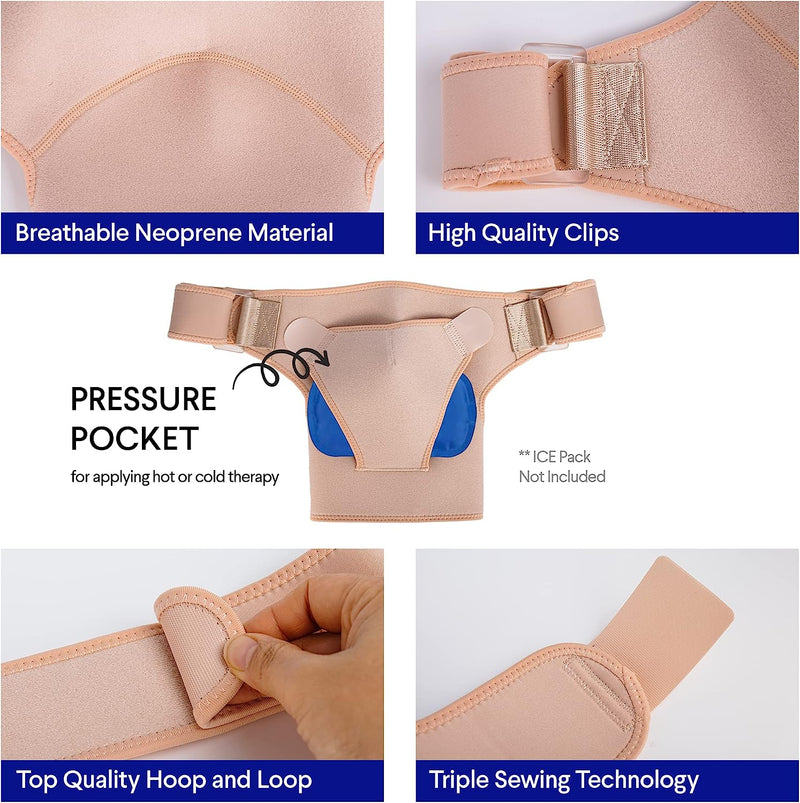 🥇Superb & Trustable - Suptrust Shoulder Brace for Women and Men will provide immediate shoulder pain relief. It will Keep Your Shoulder, AC Joint, and Upper Arm Protected and Supported. Our shoulder brace for torn rotator cuff has been a blessing to many customers who suffered from it and cannot sleep well. Suptrust Shoulder Support Brace is just Superb & Trustable!

🍃Breathable Material - Made from breathable Neoprene, Suptrust shoulder brace would fit extremely comfortably and can be worn everyday to help you get the support you need! We highly recommend you hand wash and dry the product before use, which would help adjust the smell.

✔️One Size to Fit Them All - The innovated Universal Design Allows Suptrust Shoulder Brace to be worn on RIGHT or LEFT shoulder for Women and Men. Wearing shoulder brace is easy like never before. If you find the One Regular Size does not fit, just let us know and we'll resolve the issue as soon as we can.

🌟Pocket for Cold or Hot Packs - the Suptrust shoulder stabilizing brace for women and men comes with a pocket for cold or hot packs(not included!), which can be adjusted for desired compression using its hook and loop straps. The internal pocket can be used for shoulder ice pack rotator cuff cold therapy.

❤️Satisfaction Guaranteed Customer Support - We care about our customers and stand for every sold unit of Suptrust Shoulder Brace for Women and Men. We are always here for you. Do not hesitate to contact us if you need any help with our Shoulder Support Brace. Our professional customer service team is dedicated to fixing any kind of issue you might meet. We just want to make you happy!

💡𝗪𝗮𝗿𝗺 𝗧𝗶𝗽 - We've tried our best to reduce fabric smell as much as we can, but if you still feel uncomfortable, we would highly recommend you wash the brace and dry it before use.

💡𝗜𝗳 𝗦𝗼𝗺𝗲𝘁𝗵𝗶𝗻𝗴 𝗴𝗼𝗲𝘀 𝗪𝗿𝗼𝗻𝗴: If the size is not fit for you, or the support is not enough, just let us know. 𝗬𝗢𝗨 𝗗𝗢𝗡'𝗧 𝗡𝗘𝗘𝗗 𝗧𝗢 𝗥𝗘𝗧𝗨𝗥𝗡 the product to us. We don't want to waste your time. We will issue you a full refund or a replacement without hesitation.