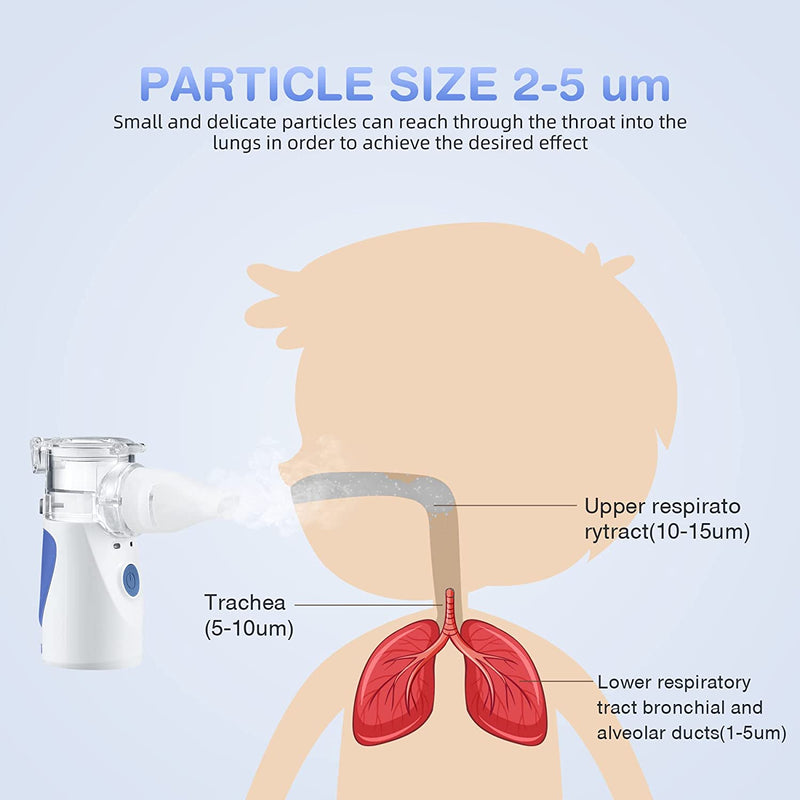 【Efficient Nebulization】This nebulizer machine has a faster nebulization speed, and the mist produced is fine and uniform (particle size ≤ 4μm). Provide reliable and efficient atomization treatment to help solve various respiratory problems.

【Humanity Design】The liquid cup equipped with the handheld nebulizer uses an inclined design, which can reduce the residual liquid, so that you can enjoy the benefits of the atomizer when you sit or lie down.

【Quiet Operation】The nebulizer machine for adults and kids uses noise reduction processing technology, the use process is efficient and almost no noise (less than 25dB). Quiet like a whisper, let your baby sleep peacefully and avoid anxiety.

【Less Residue】High-efficiency nebulizer machine for adults and kids, the solution can be completely decomposed through the equipment. The residual amount after use is less than 0.1ml, which saves the use cost.

【Automatic Cleaning】The nebulizer will automatically shut down when the liquid is nearly used up. After pouring out the residue, put an appropriate amount of warm water in the liquid cup, and press and hold the switch button for 5 seconds to enter the automatic cleaning mode.