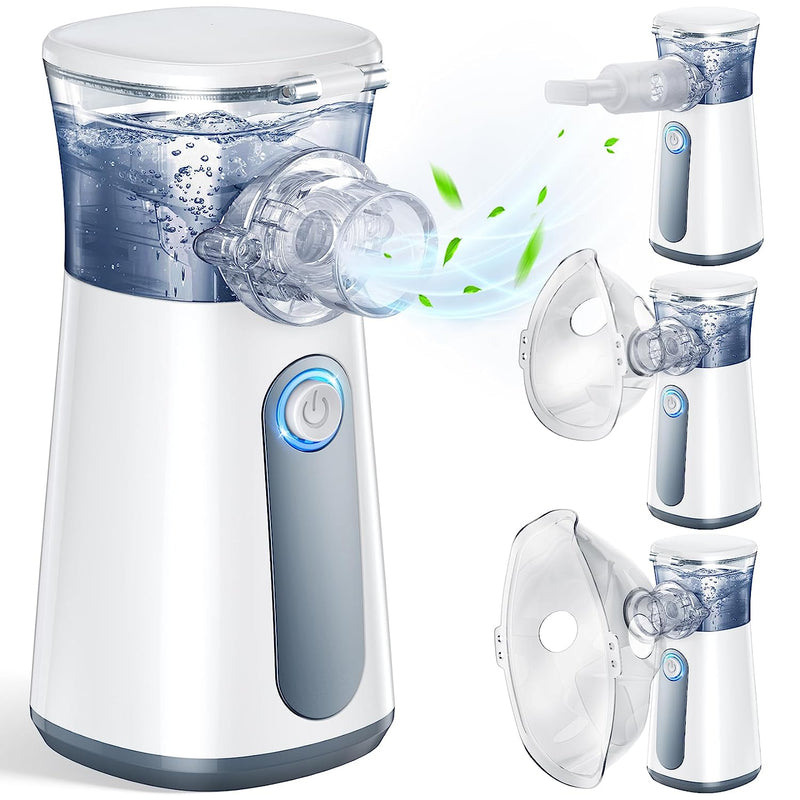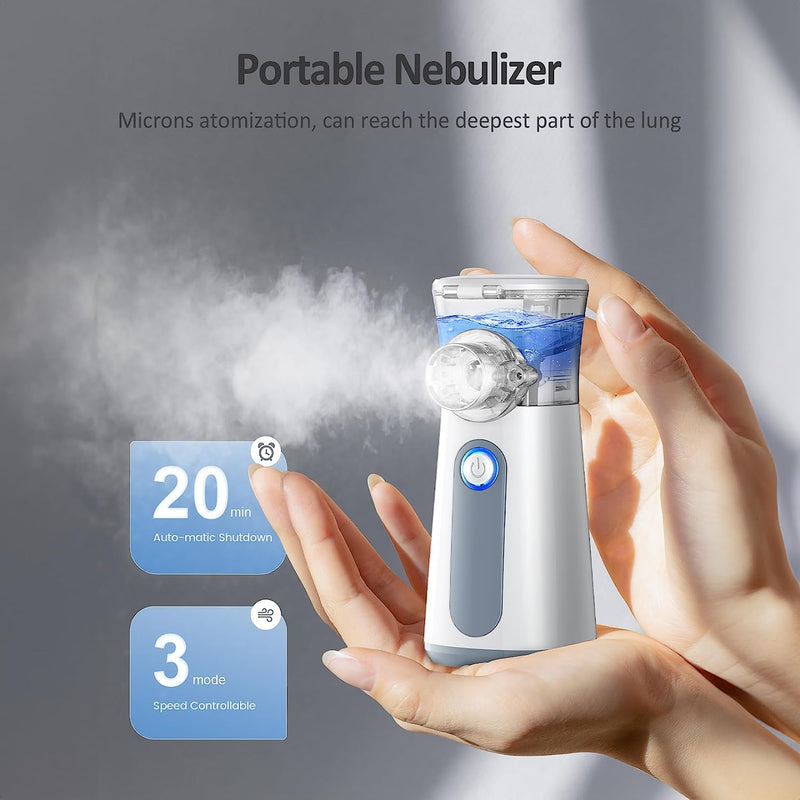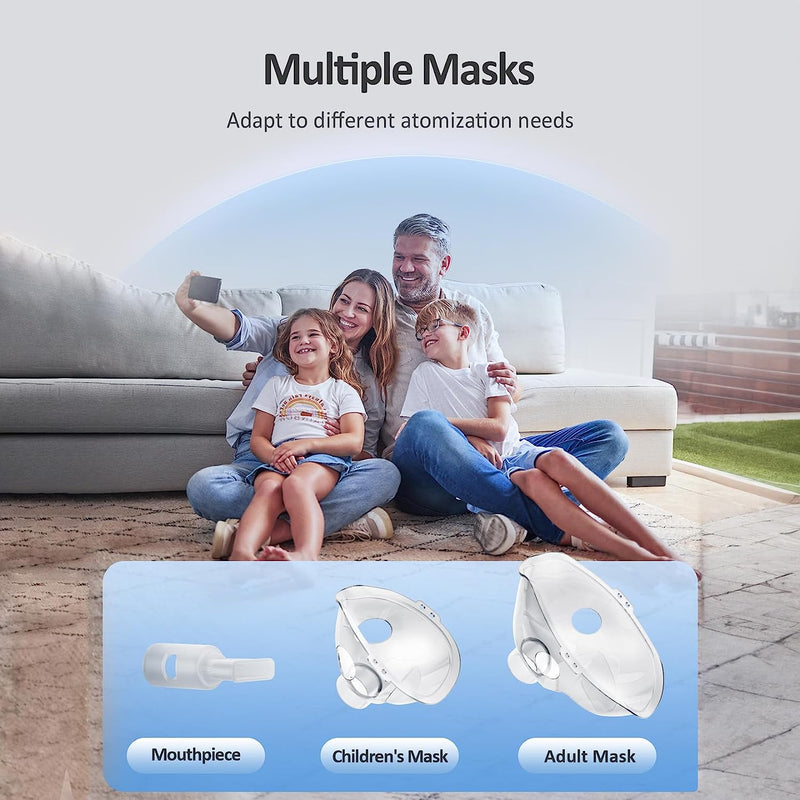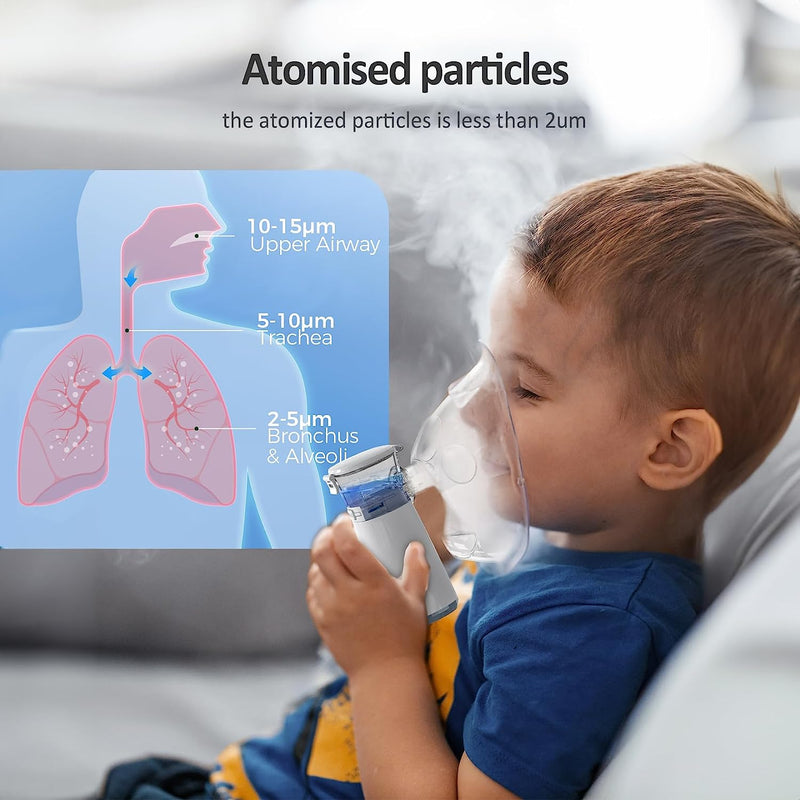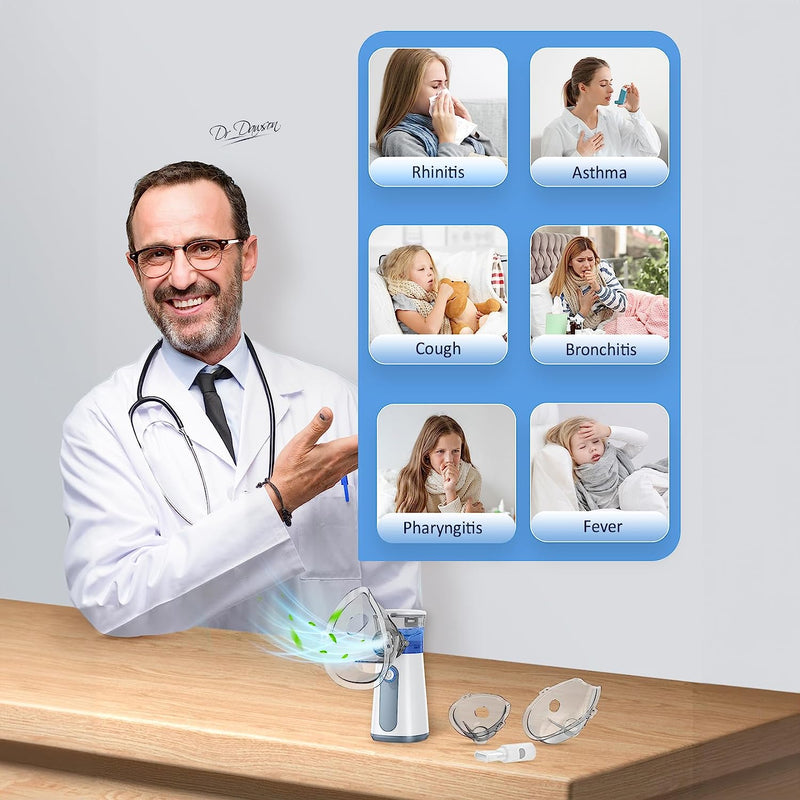 【Nebulizer machine and steam inhaler for adults and kids】: This portable nebulizer is designed to provide relief from respiratory and breathing problems such as asthma and COPD, which can deliver albuterol and saline to the lungs in softer and micro mist (particle size ≤4μm). It is easy to use and has a variety of features, such as adjustable mist modes, 3 masks, and rechargeable with USB-C cable. This nebulizer machine is also handheld and portable, making it ideal for use at home or travel.

【Specially designed nebulizer machine for kids and infant】:This quiet desktop nebulizer uses a new generation of silent motor, the nebulizador's noise is less than 25dB, which is whisper quiet so babies and toddlers can sleep well when using it. Also, this baby nebulizer for infants is designed specifically for children, and is equipped with an efficient AI Chip to ensure stable nebulization this kids nebulizer weighs only 0.25lb and can be easily held by kids while sitting or lying down.

【We only make the best nebulizers suitable for you!】This breathing machine nebulizer have adjustable 3 modes of nebulization speed for mist control. Adults mode: 0.25 ml/min, child mode: 0.15 ml/min. The asthma inhaler provides reliable and efficient atomization respiratory treatment. This inhaler for asthma also provides a full range of accessories to meet various nebulizer needs. This asthma nebulizer machine comes with 1 mouthpiece and 2 masks(1 for kids and 1 for adults).

【Portable nebulizer】This handheld nebulizer is lightweight and has a compact size of 4 x 6 x 11 cm, the portal nebulizer and ideal travel nebulizer are easy to carry in your pocket or bag to use anytime and anywhere. This jet nebulizer personal steam inhaler is rechargeable with a USB type-C cable, which can achieve your desired treatment time and is ideal for home use. It can also be used as a vocal steamer for singers to maintain vocal hydration and an oxygen machine for breathing.

【Electric Ultrasonic rechargeable nebulizer and Smart Light Reminder & Self-Cleaning Mode】The Mesh Nebulizer has Self-Cleaning Mode. Long press 5s to turn on the self-cleaning mode(all three lights are on), which can be used for daily cleaning to avoid clogging. USB Charging: you can easily charge your portable ultrasonic nebulizer via a USB power cord, car charger, or connecting to a computer. The rechargeable nebulizer and inhalers can be used continuously for 120 minutes on a full charge.