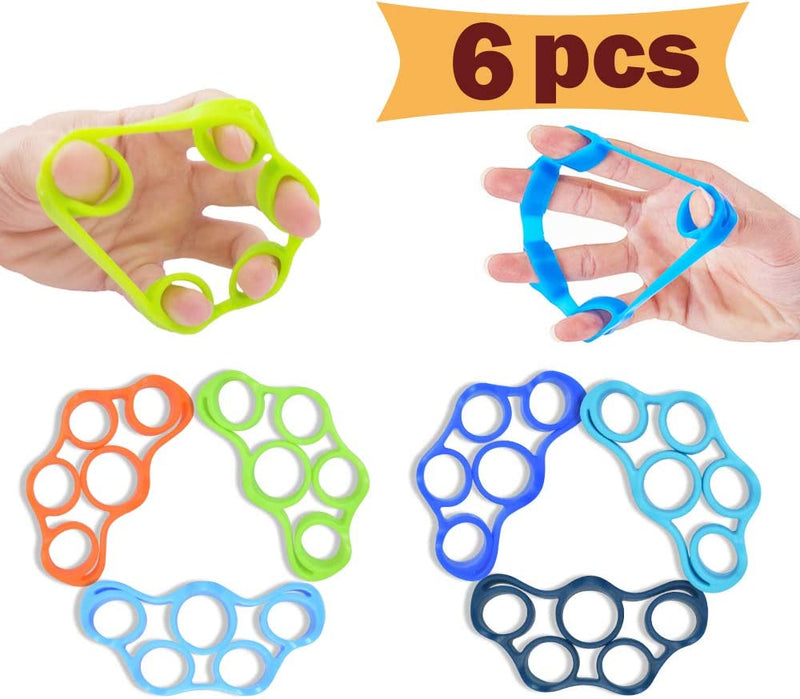 SUPERIOR-QUALITY DESIGN FOR MAXIMUM PERFORMANCE – SAFE AND DURABLE – Made of top-quality Silicone, not easy to tear. It is WASHABLE and can be use frequently and comfortably.

FITNESS & SPORT ENTHUSIASTS – strengthen your wrists, improve the dexterity of your fingers and increase the strength your hands can apply while reducing fatigue. Its rally value is from 30 to 50 lb. Help balance your grip muscles and your expanding muscles.

REHABILITATION & PREVENTION - Great for rheumatoid arthritis, arthritis, carpal tunnel, tendonitis, tennis elbow and are on the way to recover from a fractured or broken wrist, or when you type, text or any other activities which use your gripping muscles.

ERGONOMIC DESIGN FOR ALL HANDS - Suitable for all age groups and fits well for all hand sizes, different from other "small finger holes bands" on the market. Portable and easy to fit in bag or pocket. You can get repetitions in while driving, at the office or anywhere!

WHAT YOU GET - 6 Finger exerciser + Our Worry-Free 18-Month Post-Sale service and Friendly Customer Service !!