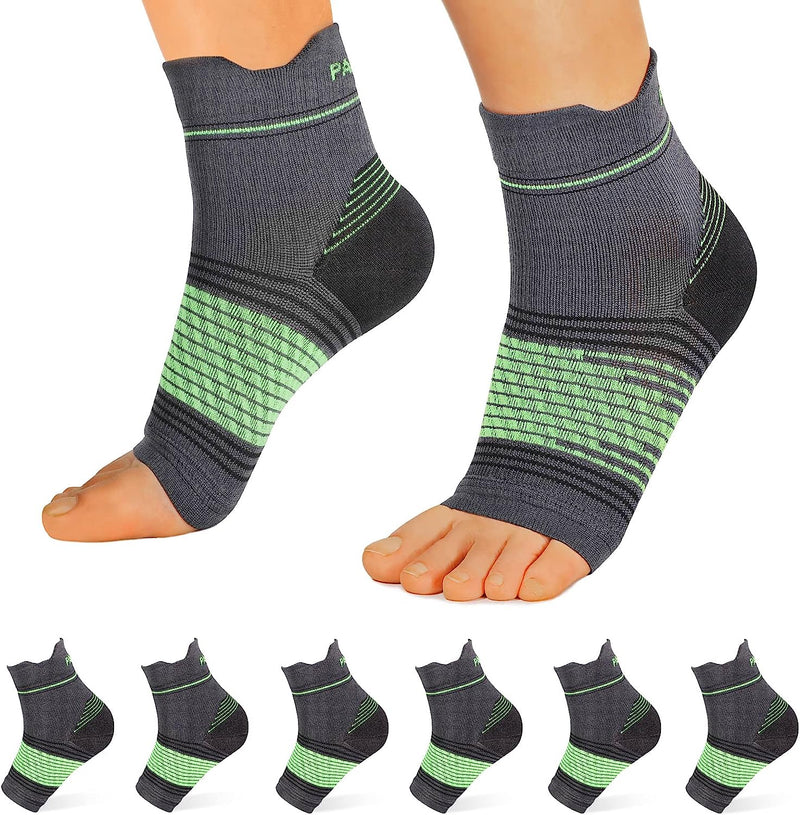 FAST PAIN RELIEF:Our compression foot sleeve helps relieve foot pain by stretching tendons and relieving pressure on the plantar fascia. Including relief of plantar fasciitis, arch pain, and heel pain. They can also improve foot circulation, stabilize ankle joint, aid in recovery from edema and heel spurs, and helps stabilize feet and prevent injuries.

ARCH SUPPORT: The plantar fasciitis sock provides effective arch compression, helps reduce heel pressure, promotes foot blood circulation, increases foot flexibility and strength, and appropriately transfers excessive fascial pressure to relieve plantar fasciitis, heel & arch pain. You can wear it at night to keep your feet in the correct bend so that you will not get stung when you wake up and walk the next day.

FLEXIBLE ACTIVITES:The ankle compression sleeve for the foot with 3d circular progressive pressure design provide you with permanent all-around protection, ensure your feet at the right angle to reduce sports injuries while providing ankle support. Open-toe design enables you to wear alone or under any socks without feeling too thick. Increase the flexibility of the toes, so that you can do toe grasping exercises whether you are standing or sitting.

TO BE COMFORTABLE: Our compression ankle socks can wearing all year round. The light and breathable fabric with 80% Nylon & 20% Spandex is so comfortable. It can be worn all day. Relief your foot pain and enjoy your life, free to sports, baseball, running, basketball, soccer, walking, hiking, or any athletic fitness sport. And it's a good gift for parents and friends.

OUR SERVICES: Keeps improving and providing the best customer service is our goal. We provide 4 different sizes to ensure you receive the focused support that you need. You can use our size chart(the second picture) to choose the perfect fit. Any questions. You can contact us by email, we will give you solutions within 24 hours.