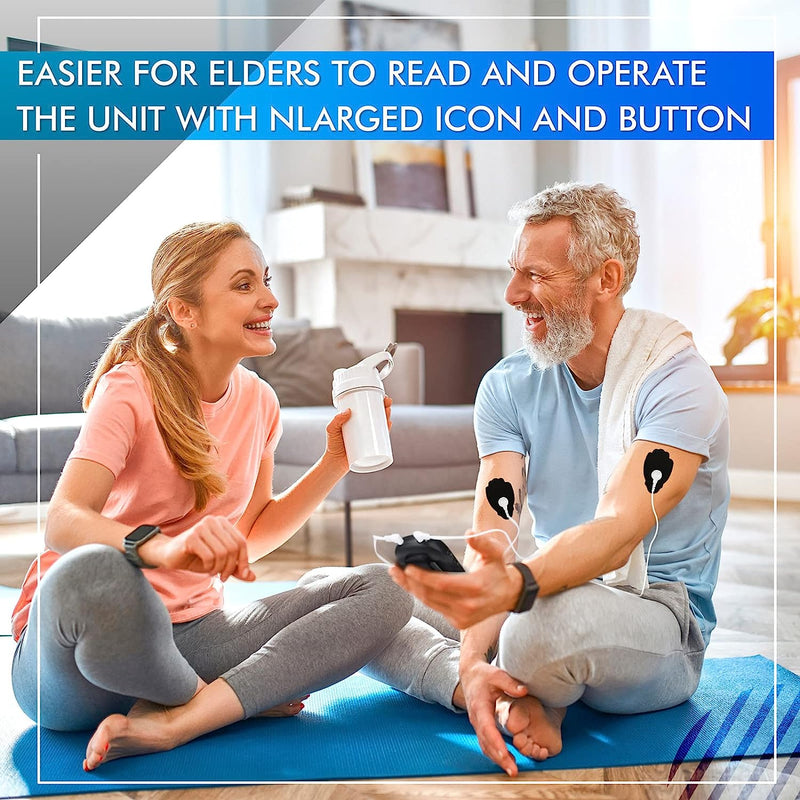 【LARGE LCD TENS DEVICE】: Our TENS unit with Large LCD screen give you a much easier reading and operating experience! This TENS EMS machine with enlarged icons and buttons makes it easier for elders to read and operate the massager. With portable size, it can be used in the office, car or travel on the go.

【MULTI-FUNCTIONAL WITH 24 MODE】: This muscle stimulator with 24 TENS EMS combination modes and 36 level intensity, which can simulate 6 massage functions separately: Kneeding, Acupuncture, Scraping, Tapping, Shiatsu-Deep, Cupping. CESLIFF TENS EMS unit stimulate pain sensory nerves through electricity pulse wave to relieve body pain and muscle aches and also can effectively help build muscles!

【INDEPENDENT A/B DUAL CHANNELS】: You can set separate modes and intensities for channel A and channel B according to your specific body part condition. Relax Any Time Anywhere with Pocket Size! Use TENS machine to reduce pain and muscle spasms for back, knees, shoulder, ankles, wrists, and elbows, and make this the most powerful weapon in your fight against chronic pain!

【SAFE & NON-INVASIVE PAIN RELIEF】: Non-medicinal choice at home for pain management if you have chronic or acute pain! The TENS unit muscle stimulator uses human body simulation technology, microcomputer intelligent control technology simulates a variety of massage methods. Provide pain relief and soothe muscle stiffness, just as a real human massage does.

【HANDS FREE】: Just clip this cute Tens Unit Massager on your belt or pants ,then you can enjoy the electric pulse massager anywhere you go. Note: The additional replacement pads can be purchased via Amazon so long as the attachment lead is a snap 3.5mm.