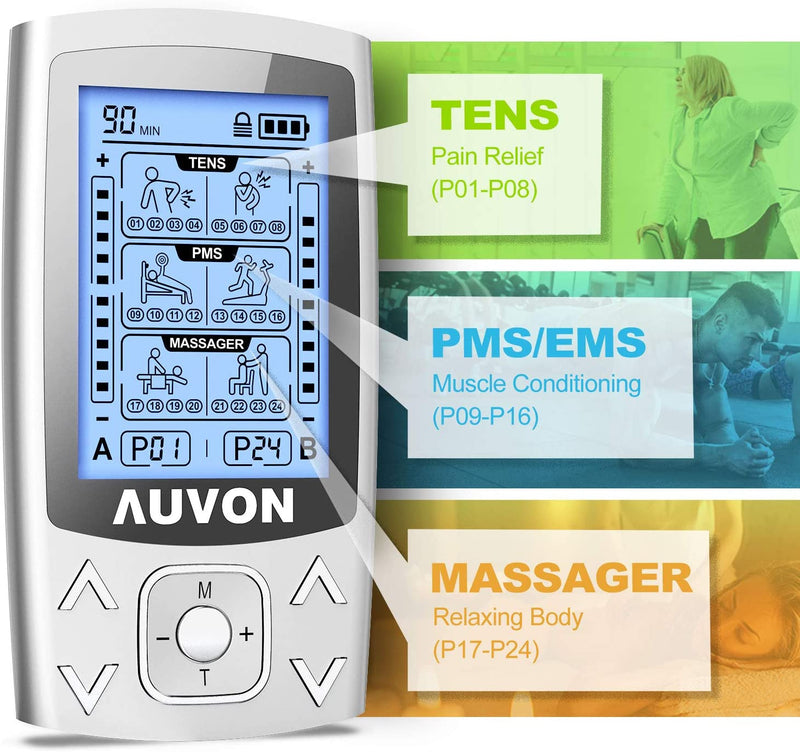 TENS + EMS Combination Unit. AUVON TENS & PMS / EMS device combines 2 therapies in 1 device, in which TENS provides safe, non-invasive, drug-free methods of pain relief used by doctors and physical therapists for years. PMS / EMS brings elicitation of muscle contraction using electrical impulses and activates the muscles to assist in the increase of strength and endurance as a rehab and strength training tool.

Independent Dual Channel. You can choose different modes and intensities for channel A and channel B. For example, you could choose P1 mode in channel A with an intensity level of 3 for your shoulder. While in channel B, the P5 mode is being run with stronger intensity set to the level of 9 on your back as a back electric stimulator.

Multi-Functional with 24 Mode. 20 levels of intensity, 24 preprogrammed massage modes with adjustable time (maximum to 90 min). With built-in powerful rechargeable lithium battery, the AUVON rechargeable TENS unit can give you continuous use up to 10 hours!

Upgraded TENS Unit Pads. The Low impedance Solid Gel has been upgraded to the industry leading American adhesive, which can provide much better self-stick performance and easy clean up after 45 uses for a longer lifespan. Standard 2mm connector lead wires & electrodes are classic and commonly used in the medical area, which makes it easier for you to find compatible accessories.

What You Receive: 1 x AUVON Dual Channel TENS machine, 12pcs 5cm x 5cm Electrode Pads, 2 x Lead Wires (1/2 Wire), 1 x USB cable, 1 x Pouch, 1 x Professional User Manual, Our 12-Month Warranty, Friendly Customer Service and Lifetime Technical Support.