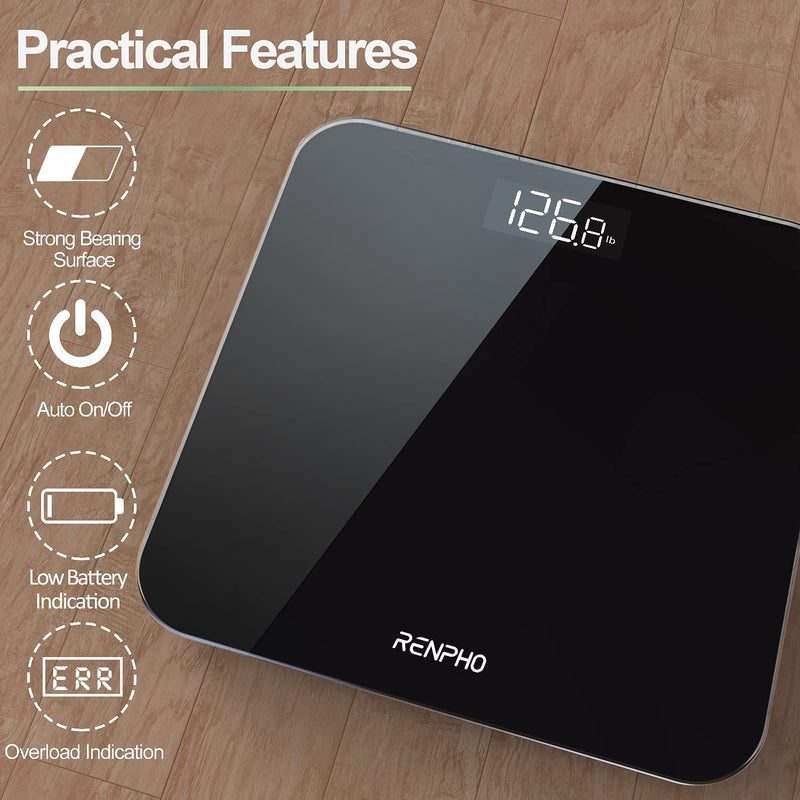 Always Accurate: Equipped with 4 high-precision sensors, ensures precise measurements down to a 0.1lb (0.05kg) graduation. With a maximum weight capacity of 400lbs/180 kg, it is a reliable scale for body weight.

Step-On Technology: This digital scale utilizes advanced step-on technology, allowing you to simply step onto the auto-calibrated platform. Within seconds, you will receive precise and instant weight measurements in either pounds or kilograms. Say goodbye to waiting and enjoy the convenience of consistent and accurate readings.

Easy to Use: The clear LED display makes it effortless to read your weight measurements. This body weight scale features convenient functions such as auto-on/off, auto-calibration, low battery indicator, and overload indication.

Designed with Care: This bathroom scales is thoughtfully designed with rounded corners to prevent sharp edges, ensuring safety for all household members. The 5mm tempered glass construction provides exceptional sturdiness, while the sleek surface makes it easy to clean and maintain.

Compact Size: The slim design allows for easy storage, making it a user-friendly weight scales for people. Whether in your bathroom, bedroom, or office, it seamlessly blends into any environment, offering convenience and functionality.