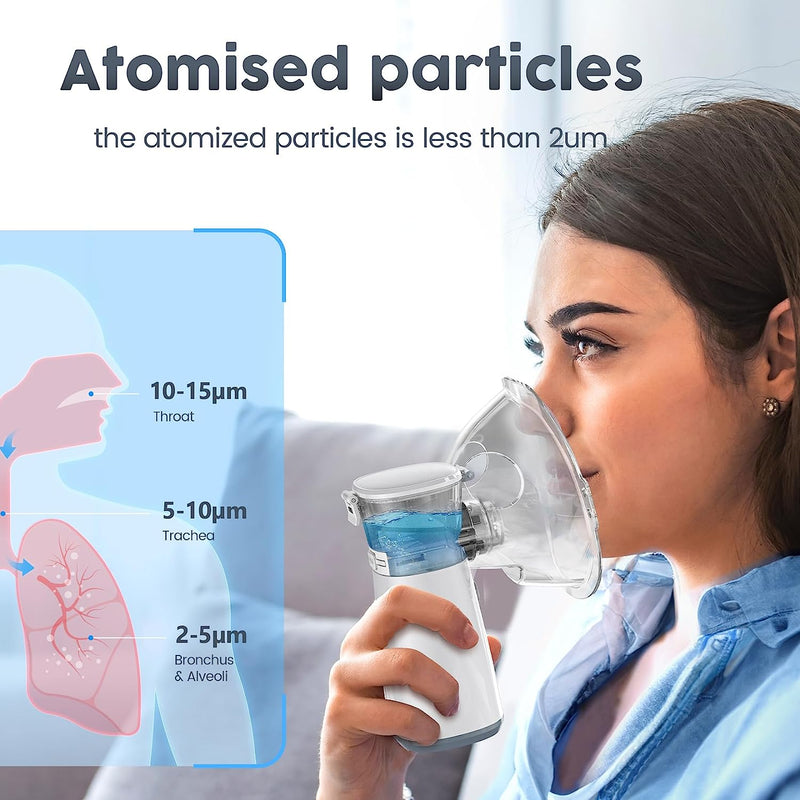 ✅【Effective relief of various breathing problems】: The asthma nebulizer machine atomizes the water-soluble drugs into tiny misty particles of 1-5um and controls the pressure to atomize the liquid into small molecular aerosols. The drug is effectively absorbed by the body without being destroyed. Please make sure the nebulizer is fully charged, the light should be blue. Add some liquid and have a try. If there is no liquid or water, it turns on a protective device.

✅【Breathing Machine Nebulizer With Self-Cleaning mode & Automatically Close】: Long press 5s to turn on the self-cleaning mode(all three lights are on), which can be used for daily cleaning to avoid clogging. The nebulizer will automatically close every 20 minutes and can work again when reopened, even children or the elderly can use it safely. The portable inhaler adopts the detachable medicine cup design, which is convenient to clean the remaining medicine residue in the medicine cup.

✅【Family-Friendly Nebulizer】: This compact and lightweight inhaler (4 x 6 x 11 cm, 100g) is perfect for on-the-go use, easily fitting into your pocket for travel convenience. The nebulizer comes with three accessories - an adult cover accessory, a child cover accessory, and a mouthpiece - making it suitable for all ages and ensuring a comfortable experience for everyone.

✅【Adjustable Nebulization Mist Control 】- This mesh nebulizer has 2 modes to perfection. Strong mode: nebulizing 0.25 ml/min, suitable for adults. Mild mode: nebulizing 0.15 ml/min, suitable for children and better absorption. also, the atomisation speed can be adjusted according to the user experience. KUIGUITEI

✅【Compact and portable nebulizer machine】-This portable nebulizer for kids and adults only measures 4 x 6 x 11 cm. You can take this Nebulize in your pocket with you when traveling. Also, the nebulizador's noise is less than 30dB, which is whispered so that babies and toddlers can sleep well when using it. Also, this baby nebulizer is equipped with an efficient AI Chip to ensure stable nebulization and weighs only 0.25lb, and can be easily handheld by children while sitting or lying down.