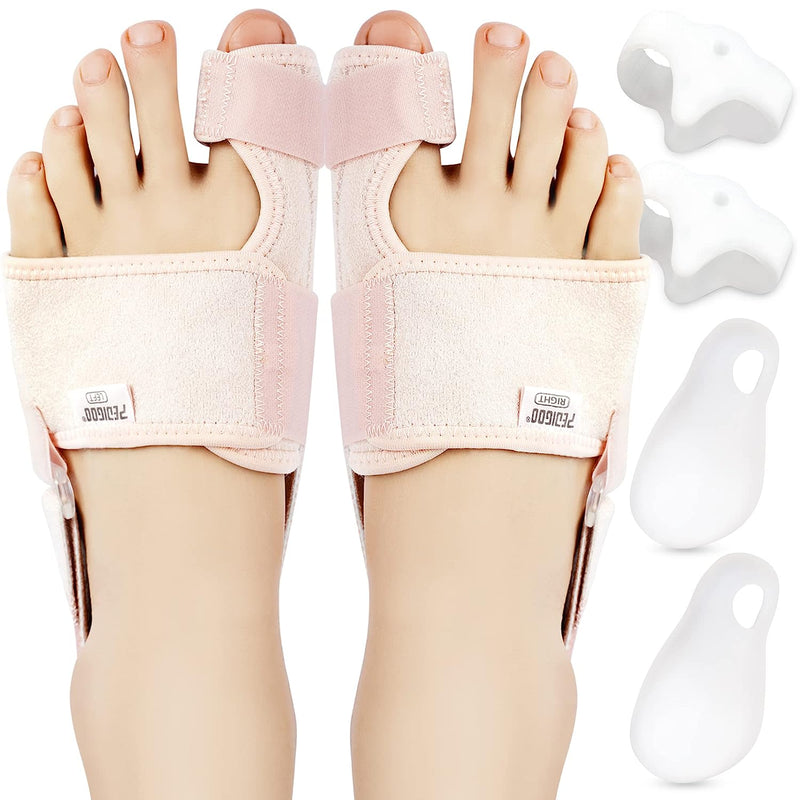 ALLEVIATE BUNION PAIN: Allowing for effective pain relief, help to ease the discomfort, pressure, and inflammation caused by bunions. Your bunion pain will be effectively relieved when wearing Pedigoo bunion splint.

RESTORE NATURAL ALIGNMENT:  Once hallux valgus is formed, it will continue to deteriorate if there are no behavior changes or human intervention. Our toe bunion corrector kit is here to help you.Provide protection and support, use an integrated flexible aluminum brace to supply constant, gentle pressure on your big toe to realign it and slow the progression or formation of bunions.

SIMPLE ELEGENT DESIGN: Minimalist design rejects redundancy; cotton lined skin-friendly material provides a comfortable experience; hook & loop strap around the instep prevents slipping off during sleep, keep your big toes in the right place.

FLEXIBLE SIZE FITS MOST: Adjustable to provide a comfortable fit. This bunion corrector relief fits most sizes (US 5-11) and can be enjoyed by men and women alike. Easy to clean and reuse.

24HRS CARE DAY-NIGHT SUPPORT KIT: Carefully-selected 6-pcs set, including Night Support: bunion correctors (1 pair), Daily In-Shoe Support: gel toe separators (1 pair) and gel big toe sleeves (1 pair). The toe gel separators are carefully designed to maximise flexibility, soft and stretchable, easy to clean and reuse. Wearing gel big toe sleeves will help absorb the pressure and friction of the shoe. Provide all-day protection.