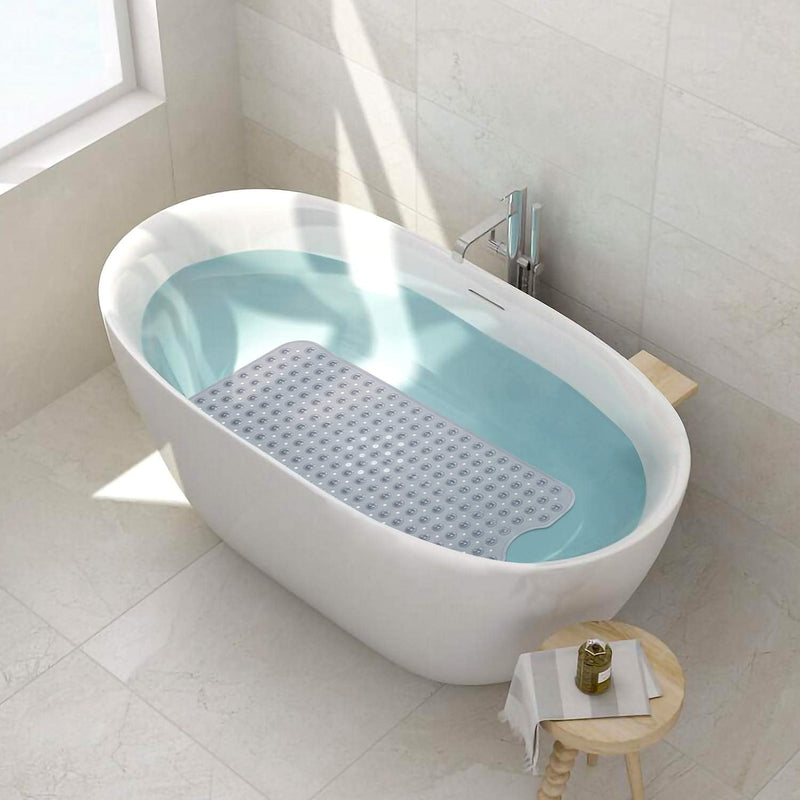 Extra large bathtub mats: No chemical smell, vinyl quality material. Heavy duty and standard dimensions and rectangle's shape makes it lays flat in any smooth bathtub floors.

Non-slip shower mats with hundreds of suction cups: YINENN anti-slip bath mats features 200 suction cups that help hold in place on smooth surfaces. Powerful suction cups offer 360 degree safety protection for users. YINENN bathtub mat is a great choice for the home, gym, spa and more!

Multifunctional and utility: looks like pebble design, provide massage experience in shower time as it comes with 200 suction cups, featuring necessary anti-slip function, meanwhile YINENN extra large mat is 40 inch x 16 inch which provides excellent coverage and also features small holes throughout to allow water to circulate.

Machine washable and durable: YINENN bath mat consists of 176 drain holes, machine washable to facilitate hassle-free maintenance. To clean at any time, simply toss the mat into the machine and enjoy its fresh appearance. Air dry for years of safe, healthy, hassle-free to use.

Warning: YINENN bathtub mat only attach to smooth and clean surface. Don't for use on textured, tiled, or non-smooth surfaces. Do not use bath oils in case of slipping.It's recommend to allow the mat to air out in a well ventilated area for 24 hours before use if you encounter a strong odor when the package is first opened.