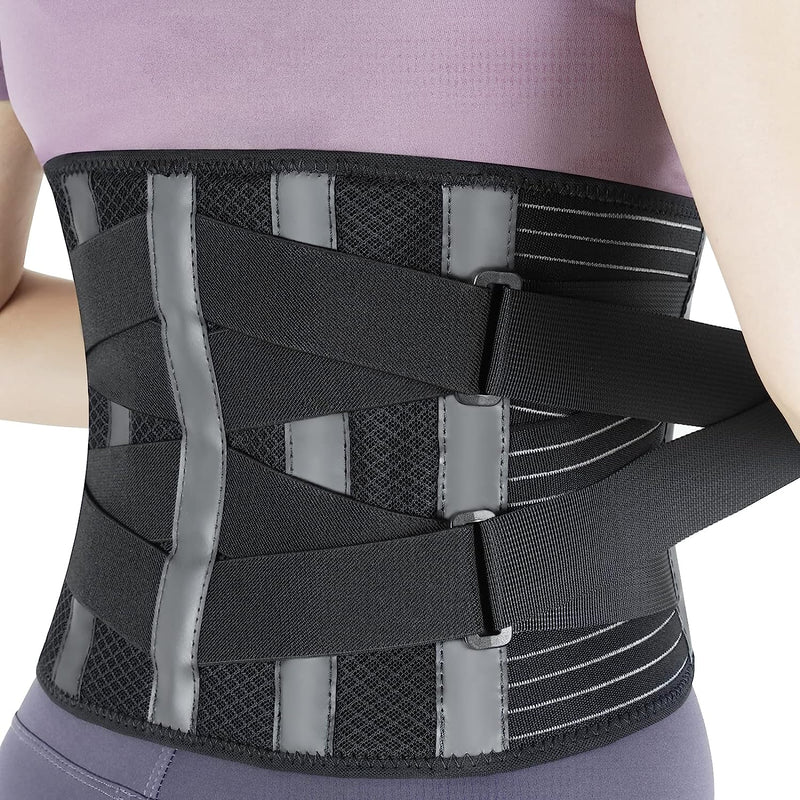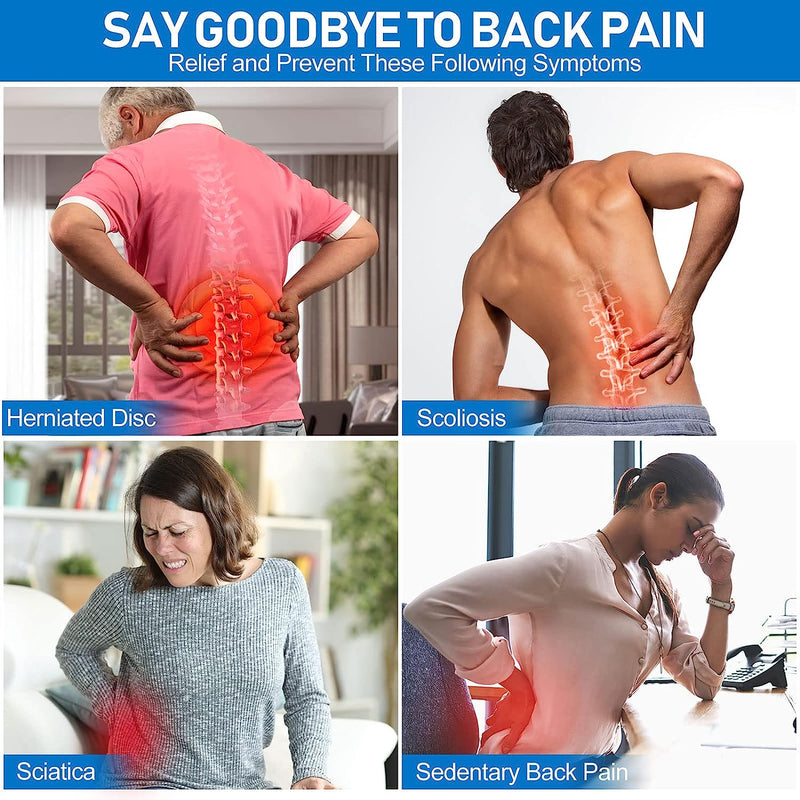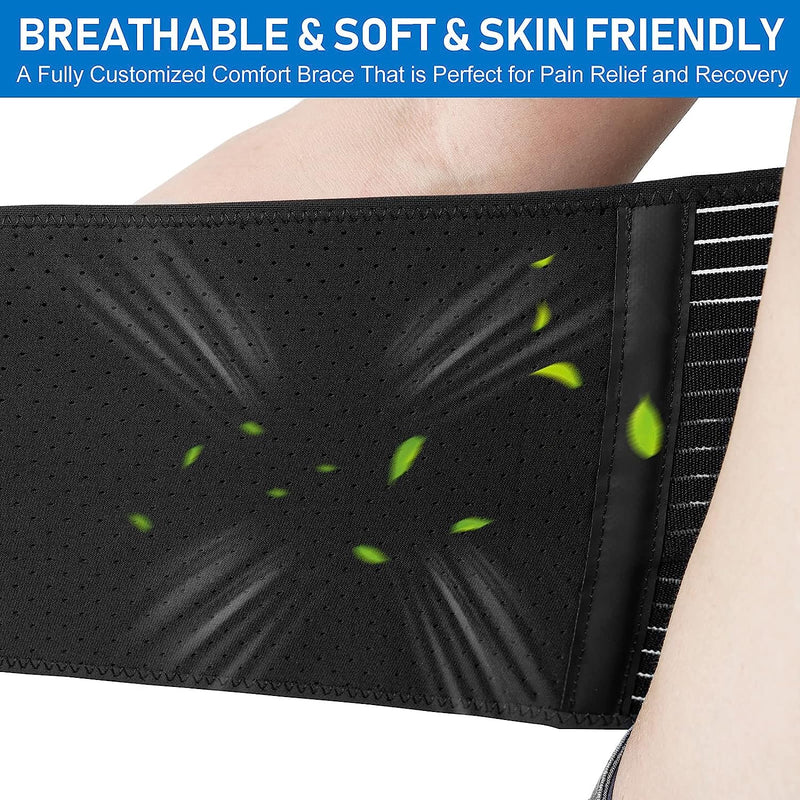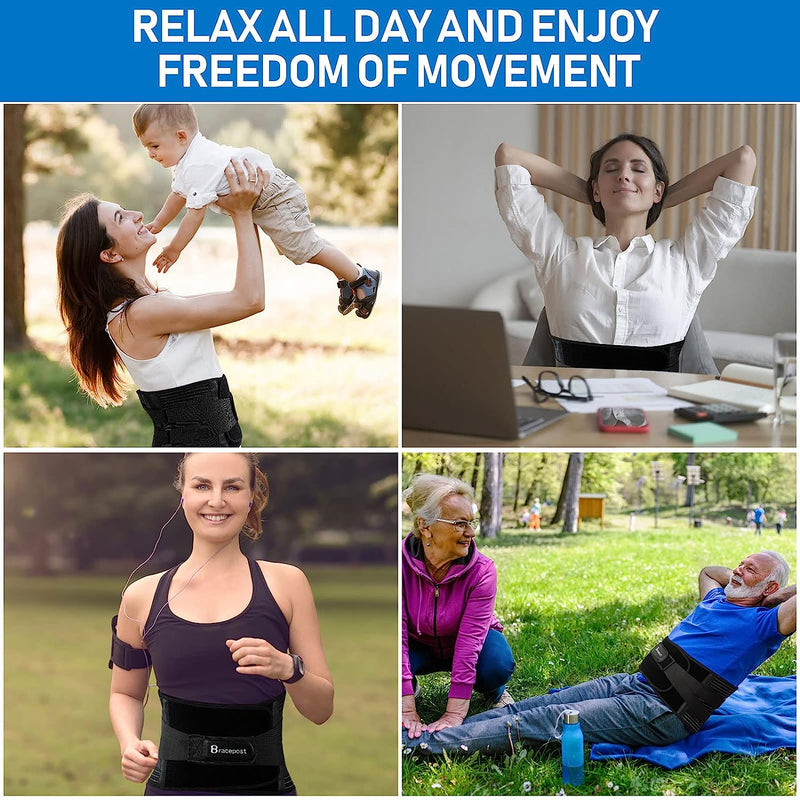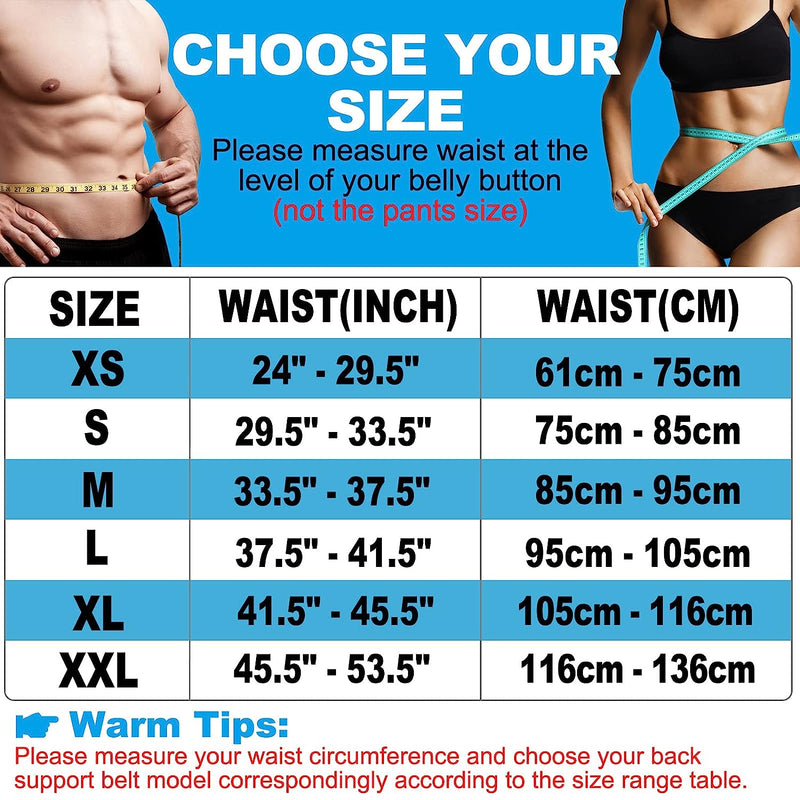 【𝐓𝐡𝐞 𝐌𝐨𝐬𝐭 𝐒𝐨𝐥𝐢𝐝 𝐒𝐮𝐩𝐩𝐨𝐫𝐭 𝐀𝐧𝐝 𝐒𝐭𝐚𝐛𝐢𝐥𝐢𝐭𝐲】The Bracepost lower back brace adopts 3 new generation ergonomic memory aluminum supports, designed to follow the natural curves of the lumbar, distributing pressure widely and evenly over a large area. And an additional 2 spring steel bars are placed along the lumbar area to provide solid lumbar support and stability, helping to correct your body posture and keep your lower back fully protected.

【𝐇𝐢𝐠𝐡 𝐄𝐟𝐟𝐢𝐜𝐢𝐞𝐧𝐭 𝐑𝐞𝐥𝐢𝐞𝐟 𝐨𝐟 𝐋𝐨𝐰 𝐁𝐚𝐜𝐤 𝐏𝐚𝐢𝐧】This back brace provides efficient relief of low back pain including muscle strain, herniated discs, sciatica, spinal stenosis, scoliosis and other acute (or chronic) low back pain, as well as improving blood circulation and increasing muscle mobility. Further relief of low back pain problems.

【𝐂𝐨𝐦𝐟𝐨𝐫𝐭𝐚𝐛𝐥𝐞 𝐚𝐧𝐝 𝐁𝐫𝐞𝐚𝐭𝐡𝐚𝐛𝐥𝐞 𝐭𝐨 𝐖𝐞𝐚𝐫】Our lumbar support belt is made of high quality mesh neoprene fabric, which is breathable enough to be comfortable and soft to wear, refreshing and non-stuffy, without irritating or scratching the skin.

【𝐖𝐢𝐝𝐞 𝐑𝐚𝐧𝐠𝐞 𝐨𝐟 𝐀𝐩𝐩𝐥𝐢𝐜𝐚𝐭𝐢𝐨𝐧𝐬】This lower back support belt can be used in a variety of situations, including sports, work, rehabilitation, and daily life, and is effective in preventing back injuries caused by sitting, lifting weights, doing housework, carrying heavy objects, etc.

【𝐀 𝐖𝐢𝐝𝐞 𝐑𝐚𝐧𝐠𝐞 𝐨𝐟 𝐒𝐢𝐳𝐞𝐬 𝐭𝐨 𝐂𝐡𝐨𝐨𝐬𝐞 𝐅𝐫𝐨𝐦】This back support brace for women and men is very reasonably sized and available in a wide range of sizes to suit various waist sizes, for men, women, yong and old, Note: Please measure your waist correctly (at the level of your belly button )not your pants size

【𝟒 𝐘𝐞𝐚𝐫 𝐖𝐚𝐫𝐫𝐚𝐧𝐭𝐲】Bracepost lower back brace come with a 4 year warranty, for any reason, if you are not satisfied, a full refund or free replacement will be offered, buy and use with confidence and choose Bracepost lumbar supports for your relaxed and comfortable life.